Our Approach
Research has consistently demonstrated that traditional "event-based" sales training is not effective. That's because improving sales skills is a process, not a one-time event.
SRG's Comprehensive Selling Skills, and Value-Driven Negotiating training programs are designed to drive superior sales performance through a systematic approach that produces sustainable results. SRG's customized sales training programs produce sustainable results by incorporating the following factors:
Five Key
Success
Factors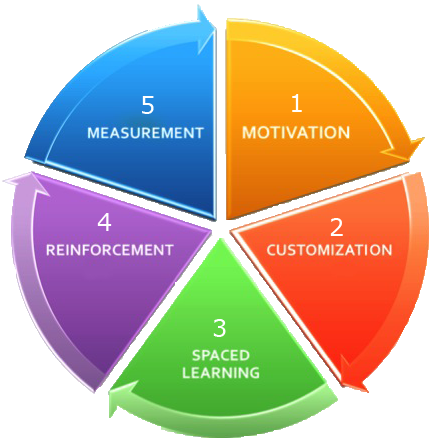 1. Motivation to Change
Without motivation, sales professionals won't invest the effort required to change behaviors. SRG works closely with clients to maximize participant motivation throughout all phases of the training program.
2. Customization Increases Relevancy
A common characteristic of unsuccessful sales training programs is using "off-the-shelf" curriculum.
SRG understands that each sales organization is unique with its own culture, processes, abilities and challenges. SRG extensive customization capabilities ensure that each training program is highly relevant and targeted.
3. Spaced Learning for Sustainable Results
The most effective sales training occurs when the delivery is spaced over a period of time rather than within a concentrated training event. Training participants learn, apply, and retain new skills more effectively when training is divided into manageable chunks of content that are delivered over time.
SRG offers a blended training delivery approach – a choice of onsite, online and on-demand – to leverage the benefits of spaced learning.
4. Reinforcement
Research has consistently demonstrated that without systematic, ongoing learning and reinforcement, participants quickly forget what they learned and revert back to their original behaviors.
SRG offers a fully integrated approach to reinforcement that consists of facilitated group reinforcement sessions, personalized sales coaching, on-demand reinforcement using eLearning, and tools and job aides.
5. Measurement
Measurement creates accountability. SRG's customized sales training programs incorporate measurements that hold participants accountable for changing their behaviors and applying new skills on the job.
SRG Can Help You Implement a Customized Sales Training Program
Call us at 1-800-490-0715 or fill out the Contact Us form to learn how SRG can help you implement a customized sales training program that produces results.